Bay Side Dock Co. offers versatile dock builds for your home. Take advantage of the beautiful waters Door County has to offer with a dock right on the waters of Lake Michigan and Green Bay. 
Lite. Strong. Rigid. Quality.
These are just a few words you might hear while buying a portable dock system. The difference is, when we use them, it's not B.S. Ask the other guys how their system feels sitting on 6, 8, or even 10 feet of dock leg. The words used then are wobbly and shaky.
Our docks are 43.3 pounds with no wobble.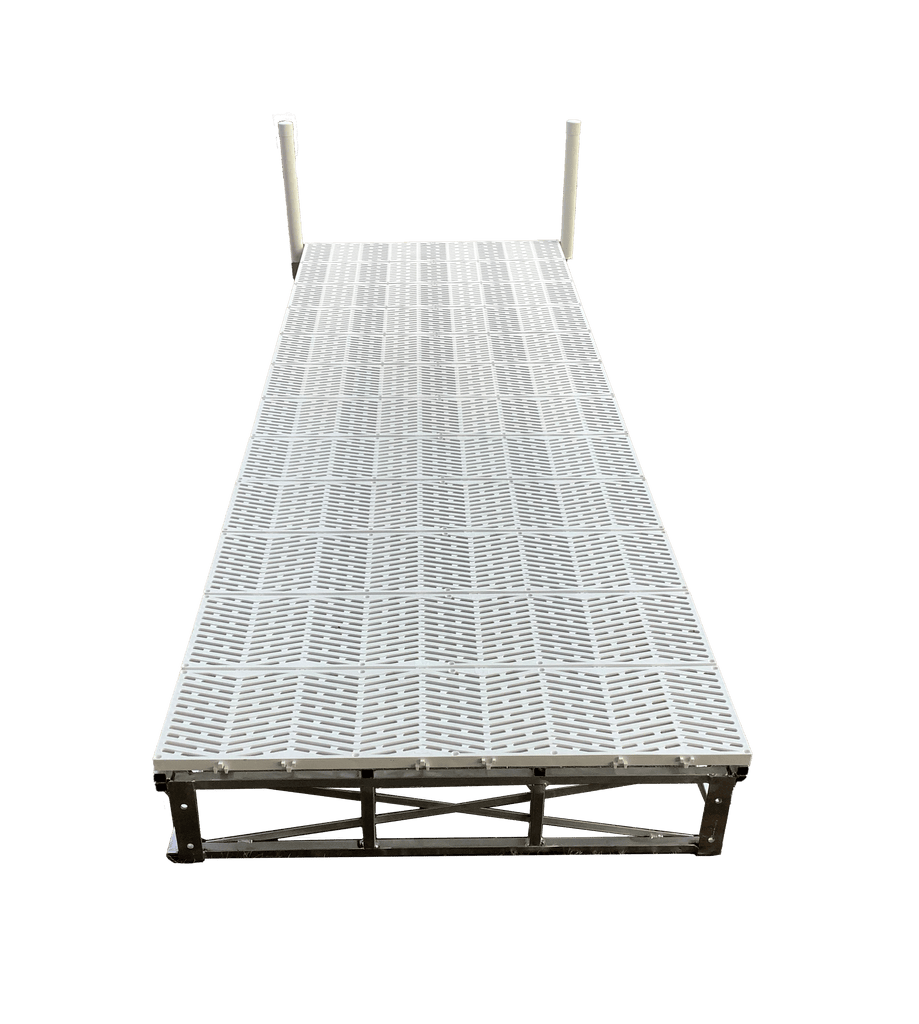 (So light it floats until the tires fill with water.)
With our experience in big water, our portable dock system is built in Sturgeon Bay, Wi and engineered for big water. What does that mean for you? You get a dock system that doesn't feel like you are standing on the top rung of a step ladder. At 43 pounds per 4×12 section, we offer the best pound for pound section available.
Bigger is better! Building off the success of our standard dock stair, we've literally expanded our dock stairs to include the Jumbo-Tread option!
With a massive 28″ step width and 8-5/8″ step depth, the Jumbo-Tread Stair provides a comfortable climb or decent for people of any size. These dock steps get you in and out of the water with maximum safety.
The gentle incline and handrails make use safe, stable, and comfortable. They are perfect near shoreline, or at a variety of water depths. Steps have 12″ adjustable legs to fit your application perfectly, and each step features non-slip traction grips.
Great for kids, older or physically limited adults, larger adults, and even pets. Premium aluminum construction is intended for use in freshwater applications. 500 lb. capacity. Due to variations in dock construction and design, mounting hardware is sold separately.
Elevator Legs
Make install even easier, level with no lifting.
Benches
All aluminum, beautiful, and comfortable.
Ladder
All aluminum, with several different styles and sizes.
Stairs
All aluminum available in standard or extra wide, 4, or 6 steps.
PVC Pipe Covers
Add symmetry and sex appeal, covers make all of your legs the same length
Leg Bracket
Removable brackets, made from air craft quality aluminum extrusion, provide awesome rigidity.
X Bracing Kit
Quick connect deep water braces make life easy. (Only necessary if the dock frame sits 6 feet from the lake bottom).
Poly Panel
No maintenance poly decking available in grey tan and white.
Why choose Bayside Dock Co.? 
The long answer would include something about the materials and quality, which you hear about everything you buy. The short answer: 
Go Walk On It. Our quality piers, docks, and panels speak for themselves.